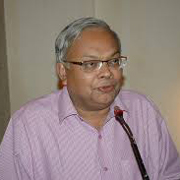 Dr. Tapan Chakrabarti ( Director )
Dr. Tapan Chakrabarti is highly learned, well known personality and having rich experience of working the field of Environment with high level state and Central level government organizations and post-graduate experience in India & abroad. He is a well-respected leader in environmental biotechnology and hazardous waste management.
Dr. Tapan Chakrabarti has done M.Sc. Ph.D. in Biochemistry. Dr. Tapan Chakrabarti is associated with NEERI since December 1973. Presently Dr. Chakrabarti is the Chair Professor in Visveshvaraya National Institute of Technology (VNIT).
Considering his contribution and experience in the field of environmental biotechnology, Dr. Chakrabarti has been nominated in various national and International committees.